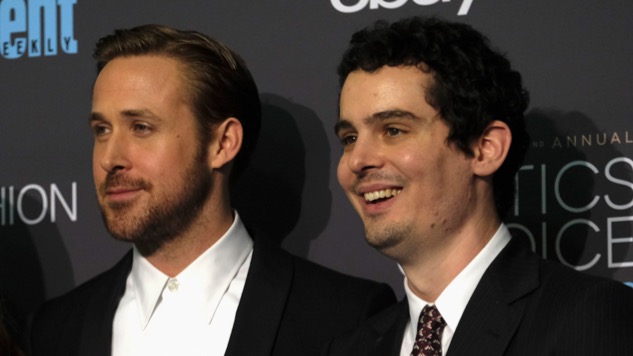 It's no surprise that La La Land director Damien Chazelle is going to reunite with one of the most multi-talented men in Hollywood for his next project, but who saw this coming? A Neil Armstrong biopic appears to be the next move for these two talents as the writer/director's next project will be titled First Man and will take his talents, not to South Beach, but to the moon.
Chazelle's first two efforts have been nothing short of spectacular with his work on the award-winning Whiplash and his recent musical effort in La La Land. The two films have music as a vocal point (no pun intended) to varying degrees so it's fascinating that the direction the young director is going is up…in space.
That's definitely not a bad thing because making a musical is not some simple feat to accomplish with it being your second film and it's exciting to know that he wants to make a film about such a significant person in world history. The film will be based on the book of the same name and presents a cool period for Chazelle to tackle as a director. The space crazed 60's could present a great emotional tug with real life dramas the world would love to see on screen.
It'd be interesting to see if this duo can strike more magic with this film and if this could be the next great director-actor pairing when it's all said and done. Who knows, maybe we see Emma Stone and J.K. Simmons make appearances somewhere. I'd put money on Simmons finding his way in there like Bill Murray in a Wes Anderson movie.
Source: Variety