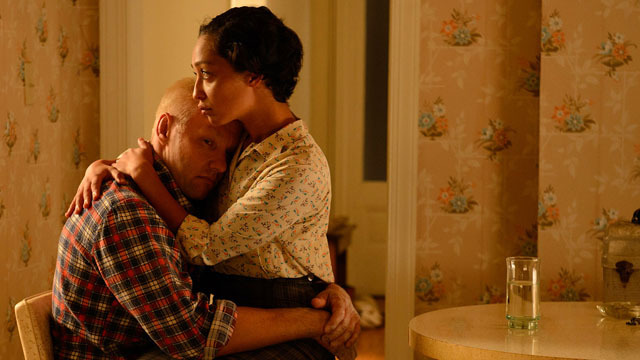 In the latest moving drama by Mud director/writer Jeff Nichols comes the astonishing true story of the Lovings, an interracial couple living in a racially divided Virginia prior to the boom of the Civil Rights in sixties. Nichols recruited a cast that leads with Joel Edgerton and Ruth Negga as Richard and Mildred Loving, a couple brought together as well as divided by the colors of their skin. While interracial couples are common as ever in our society, realize one thing when you enter this film, this was in the 1960's! There were cars, phones, electricity, and television! It just makes their heartbreak and triumphs all the more beautiful in the grand scheme of things as Nichols makes sure to give justice to the Lovings as well as he possibly could.
Nichols doesn't do flashy films, but what he lacks in flash he effortlessly makes up for with intimate realism, attention to detail, and cinematic integrity. Nichols never force feeds you anything in his movies and this is no different. He allows you to see the characters at face value without putting in generic plot-churning tropes to get the story off the ground. Edgerton and Negga are likable through the whole film without ever feeling contrived. The reason their story is so compelling is because all they ever did was love each other unconditionally, but thanks to leftover slave laws in District of Columbia, their love was tested and was nearly divided if not for people that cared.
Their story is told in a calm, never rallied up fashion which can come off as boring in some instances, but never for lack of compelling character moments or real life events that they went through. The story focuses on the nature of peril Richard felt for his family – which is flat out heartbreaking – while presenting the good nature of so many others along the way. Nichols presented both sides of people without forcing a villainous nature to them beyond exactly what they were and that causes a duality in the themes that we've seen in America which manifest throughout the film. Even with all this, I almost wanted more from Nichols in regards to the tension, and controversy of the story itself.
The next jump for Nichols as a film-maker is to boldly jump into that next phase of dramatic storytelling. He's done the E.T. style drama incredibly well thus far, meaning, he presents a softer presentation of situations that can feel deeply visceral through the warmth muted emotional depth. Because by nature of the story, Loving isn't about slaves or the brutalities of racial division, it's a story the proves the strength of a couple's love for each other as well as the obstacles that tried to slow them down in the process, but didn't. It's a story that makes you realize how stupid racial segregation is while defining the importance of not being being afraid in difficult times. Their accomplishments and hardships are going to be hard to forget after seeing this film, and I'm confident that you won't be forgetting them anytime soon.
SCORE: A-