Talkies are officially a staple in the art of filmmaking and they're narratives have switched from the fantasy and horror to the noir and classic black and white dramas. The 40's explores romance, politics, mystery, and globe trotting adventure. Very much like the world around it, the films of the 40's were still figuring things out during a time of war and violence and death. The theater still stood as the one place to escape even if only for a few hours a week.
The genres are away from the violent and terrifying as we saw plenty of in the 1930's (HERE) with the focus directing itself towards more dialogue driven filmmaking. Soon we will see a boom of films lead by filmmakers such as Stanley Kubrick, Alfred Hitchcock, Frank Capra, and Orsen Welles.
1. Casablanca (1942)
Quote: "Here's looking at you, kid."
When I first started writing screenplays, I gathered a list of classic stories, and films worth going back too. On everyone's list, for good reason was Casablanca, considered one of the greatest films ever written and made in film's century long history. Thanks to it's memorable lines, clever dialogue, and characters, the film was able to transcend time with it's narrative.
---
2. Citizen Kane (1941)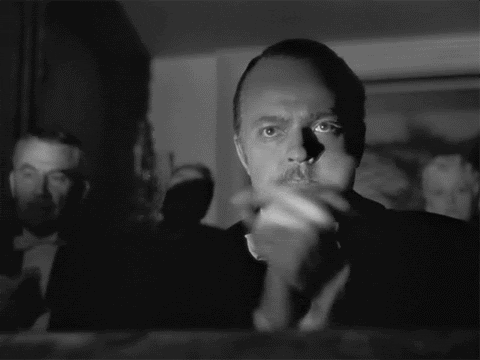 Quote: "There's only one person in the world that will decide what I do. And that's me."
Considered the greatest film in cinematic history, Orsen Welles burst onto the scene with his directorial debut while starring as the iconic Charles Foster Kane. His debut as actor, writer, director proved to be a landmark in filmmaking. The editing techniques as well as usage of light and shadow were unlike many had seen before which still allows it to look as aesthetically pleasing as it did back in 1941.
---
---
3. The Great Dictator (1940)
Quote: "Sometimes I think we think too much and feel too little."
Charlie Chaplin's most notable talkie after transitioning from being a silent movie star was doosie. We can thank Chaplin for inspiring Hitler's looks, but in no way were they the same. The satirical look on the villainous German leader came full steam ahead when Chaplin played a Jewish soldier recovering from the Great War while also playing the dictator that spews anti semitic words to the people. This film may have provided one of the most unforgettable speeches possibly in history as it opposed the hatred and violence that war(s) bring us.
---
4. It's a Wonderful Life (1946)
Quote: "Remember, no man is a failure if he has friends."
One of Christmas' most memorable and heartwarming films that will bring the spirit of Christmas into your heart at any time of the year. You don't have to be Christians to enjoy this film either. At the core of the film, it's a timeless tale about the value of friendship, family, and perspective. It's a film that reminds us that we as people have value, no matter who we are, and that's a powerful message that will always ring true.
---
5. The Third Man (1949)
Quote: " In Switzerland, they had brotherly love, and they had 500 years of democracy and peace. And what did that produce? The cuckoo clock."
Orsen Welles returns as an actor and screenwriter for this next classic on our list. A story that follows a writer in postwar Vienna, Austria who finds an old friend only to find him dead. A swirling mystery-thriller ensues with dialogue worthy of it's own Hall of Fame. The title "third man" is seen at the time Holly Martins (Joseph Cotton) finds his friend. It's a thrilling story with one of the best character intros in film history.
---
6. The Maltese Falcon (1941)
Quote: "Remember, mine's bigger than yours."
Humphrey Bogart sets the standard for 30's and 40's acting with his iconic voice, face, and acting style. All this coupled with a classic noir style sets the precedent for noirs down the line. A classic crime story with a seductive woman with a secret and a detective willing to take on the case becomes one of the most quotable crime dramas of it's time as well as in the genre.
---
7. The Treasure of Sierra Madre (1948) 
Adventure films and impeccable dialogue, that was film in the late forties. The desire to discover and realize was all too apparent in the 40's. This translated into their films with the time's biggest stars in starring roles. Humphrey Bogart, Walter Huston, and Tim Holt round out a cast of the era's biggest stars while giving a twist on the treasure hunter and the avarice that ensues.
---
8. Rebecca (1940)
Quote: "Do you think the dead come back and watch the living?"
Alfred Hitchcock directs one of his earliest classics and proves why he's the master of suspense. Imagine marrying a widower who does nothing, but force you be exactly like his dead wife… I'll wait… It's weird AF isn't it? The answer is yes, but it makes for a really compelling film with exceptional acting, unique camera work, and a story that is still weird to this day.
---
9. Bicycle Thieves (1948)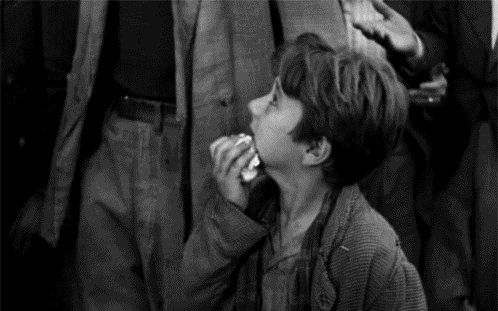 Quote: "Why should I kill myself worrying when I will end up just as dead?"
This Italian classic about a man and his family desperate to make money in a post-war Rome becomes all the more sorrowing as I watch it each year. A man's wife sells their bed linens to get the man's bike (Lamberto Maggiorani) in order for him to work a valuable job hanging posters across the town. A harrowing story begins once the bike is stolen and the father and son tale begins in dramatic, but beautiful fashion.
---
10. Pinocchio (1940)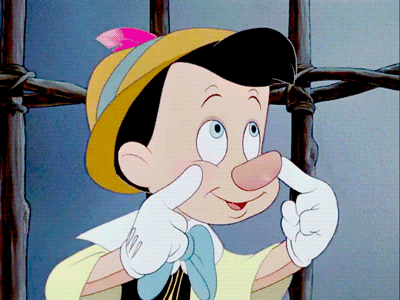 Quote: "When you wish upon a star, makes no difference who you are, anything your heart desires will come to you.."
One of the original Disney animated films with a song we can't help, but sing had its genesis in 1940, a year where it's Disney animated partner just missed out, and that is Fantasia. The reason I had to put Pinocchio on here over Fantasia was for the lasting impact of the film as a whole. When I mention Fantasia to people, they scrunch up their faces like they just smelled a fart while Pinocchio can at least get words and hums out of them. That speaks for itself.