Sammy "Mothafuckin" Jackson has since become one of the most recognizable figures in pop culture to this day. His roles span decades and vary as often as snowflakes with one constant no matter what, and that is that he is always a scene stealing motherf*cker. His collaborations with Quentin Tarantino are legendary, but the man has worked with every director an actor could ever dream of with the success to back it up.
NO he is not Lawrence Fishburne so stop saying that you nuts!
As the lists always go, I will be going through the vast catalog of films to pick what I feel are my favorite and also his best. I always want to hear from you guys and gals so chime in through the comments find me on social medias @ thegunnrange.
1.

Stephen

– Django Unchained (2012): 
Stephen is arguably one of the most despicable characters in a film that literally embraces the fact that in the times of slavery there were despicable people, but even past the slave owners, and the KKK throughout the film, there's no one worse or more engaging than the house negro with a warped sense of righteous. Jackson is one of the most frustrating and memorable characters from a film that boasted enough characters to fill the award slots of that year.
---
2.

Mr. Glass

– Unbreakable (2000)
When M. Night Shyamalan was at his peak of quality film making early  on in his career, he brought Bruce Willis and Samuel L. Jackson back together for a film not named Die Hard and the results speak for themselves. Before superhero movies were as large as they are, there was a little film called Unbreakable with a sentimental villain by the name of Elijah Price aka Mr. Glass, a man with a rare disease that made his body brittle as glass. It's one of those roles that sells the talents of Jackson as a real actor through physicality, emotional depth, and a pain that you can feel dripping off of his character.
---
3.

Jules Winnfield

 – Pulp Fiction (1994)
Without a doubt the role that shot Jackson into stardom with his Jerry curl and all, Jules Winnfield might be one of the most iconic characters created in the world of cinema. Thanks to his lengthy and humorously dramatic monologues and unflinching badassery, he pulls you into his gravity that has you now orbiting a violent and cheeseburger filled world that we barely understand. Dialogue driven in a way that only Sammy can handle and from a script that would make Quentin Tarantino always find a way to work with him in the future.
---
4. 

Laserus

– Black Snake Moan (2006)
When you look back at the premise of this film, you would imagine this politically correct world would find this slightly offensive and off putting, but somehow the leads that include Jackson and Christina Ricci make the film more intimate in nature than you'd think. Jackson plays a blues guitar player who holds Ricci's character hostage to help rid her of her promiscuous ways by tying her to his heater and basically trying to exercise her demons. It sounds more like a horror film, but it's not, and it presents a bug eyed Jackson who's intentions are actually pretty good.
---
5. 

Danny Roman

– The Negotiator (1998)
One of the main things Jackson is known for, and is great at, is being one of the toughest dudes in whichever role he takes. In F. Gary Grey's cop thriller, Jackson's Danny Roman is the best hostage negotiator in Chicago, but is framed for a crime he didn't commit. The chase and ensuing events lead to a more mysterious sequence of events that bolsters a lot of heart and depth. Jackson manages to temper his normally boisterous characters to a more dull roar this time around which makes him all the more enticing to watch on screen.
---
6. 

Frozone

– The Incredibles (2003)
With such an iconic voice and diction it's no surprise Disney and Pixar recruited Jackson to be the voice of one of the standout characters from The Incredibles. From his icy cool delivery to his relationship with his wife (Where's my supersuit?!) it is one of the most memorable characters in the Pixar world. Surprisingly, this was only one of the few notable voice over roles in a film of his. He's done tons of voice over for animated shows like Afro Samurai, Star Wars: The Clone Wars, as well as appearances on The Boondocks and The Proud Family.
---
7. 

Coach Ken Carter

– Coach Carter (2005)
It was only a matter of time before Jackson was able to portray a visceral, but caring sports figure or coach in a film. He got his chance to use that natural charisma and confidence by portraying real life high school basketball coach Ken Carter. The film itself is pretty good and grips you with it's narrative of inner city boys on a high school basketball team who get tangled up in the life the streets and hoods surround them in. Carter (Jackson) is the man that chooses to do something about it and help these boys not only become winners, but in the process become men and that in of itself is powerful with a performance to back it up.
---
8.

Mr. Senor Love Daddy

– Do the Right Thing (1989)
While the part was small, it was important, and his smooth and funky narration of the Spike Lee film is about as vital a detail as the temperature and setting of the film. It's a presence that commands your attention in the best kind of ways while making you laugh as you transition from certain scenes to the next. It's a colorful character, literally and figuratively with tropes that make for a fun and exciting character that a younger Sammy Jackson portrays before he explodes into mainstream pop culture.
---
9.

Ordell Robbie

– Jackie Brown (1997)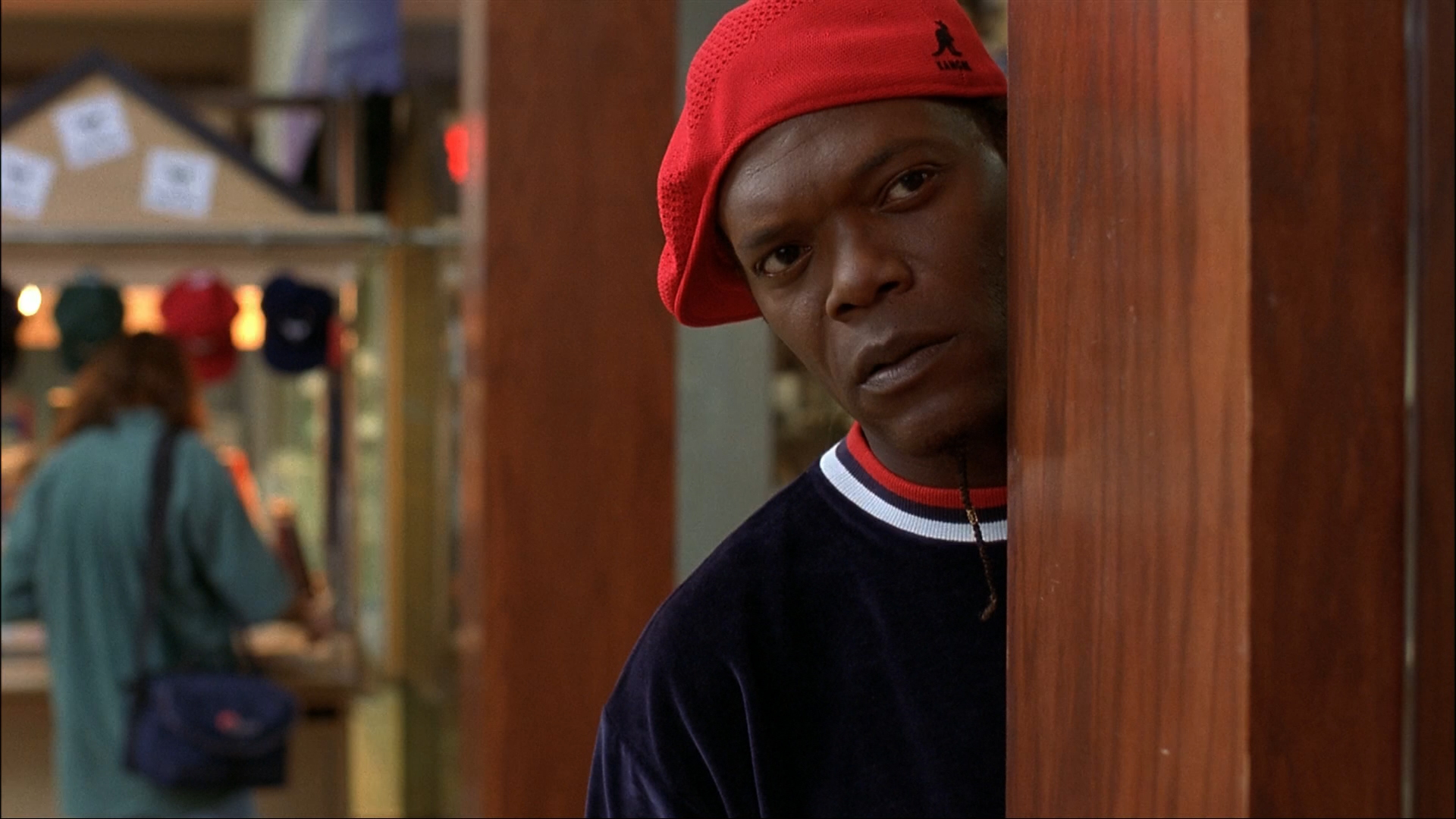 Back with Quentin Tarantino, Jackson portrays another character by the famed writer/director and plays a gun running, money smuggling criminal who uses Pam Grier's Jackie Brown, a flight attendant, to smuggle cash on the planes. It's a hilarious film in it's own dark sensibilities, but Jackson does as he does best with Q.T. by letting loose as the paranoid, goatee having baddy.
10. 

Mace Windu

– Star Wars prequels
While the movies may have become the drugged out cousin that makes us all uncomfortable at family reunions, that would at least make Samuel L. Jackson the cool Uncle. Wielding the first ever purple lightsaber in the Star Wars universe, Jackson may have single handedly been able to present different color lightsabers to the world of Star Wars and aptly change the universe as we know it. He's cool and collected with a masterful demeanor which presents a man with high levels of power and wisdom. He kicks ass and was one of the few standouts in what was almost the downfall of Star Wars i.e. the prequels.