I was inspired to make a list of this caliber after I re-watched and reviewed The Iron Giant and was nearly brought to full fledged tears in the process and thought I'd try to shed some lights on films in the animated categories who deserve more praise. Animation varies from adult humor/drama to the kid friendly nature most of us are familiar with from either childhood or adulthood and they should be the focus for once.
DISCLAIMER: The Iron Giant won't be on the list because I've learned how many people enjoy it to this day.
Disney films take the cake most of the time and that's understandable and fair to be honest, but it doesn't make non-Disney films any less important or valuable. I am excluding anime on here because that is a whole different list for later articles. I'm also not incorporating many foreign language films on this list. Sorry.
15. 9 (2009): No one ever said these had to be strictly kids animated films…did they? Eh well, this is going on the list because it's a beautiful and graphic depiction of life, death, and the afterlife. It's beautiful and haunting with a daring storyline that clearly made audiences confused. It's action packed, beautifully shot, and is completely original…and I seem to be the only one that enjoyed it. It was one of those films I caught a glimpse of as a preview for another film and my curiosity was peaked, and though it took me a few views to appreciate what it was, I loved it.
14. Oliver and Company (1988): "Now it was always once upon a time in New City…" Just the intro song gets me excited! Maybe this is pure childhood nostalgia, but this film makes me happy. An orphan kitten in the vane of the classic story of Oliver Twist with some Billy Joel thrown in there is a classic Disney film in my eyes. Sure, the songs aren't exactly "Phil Collins in Tarzan" great, but they have their purpose and fun. It's something about that vintage 80's animation and sound and depiction of New York that warms me up inside…I may watch it tonight.
13. Legend of the Guardians: The Owls of Ga'Hoole (2010): People forget this was directed by the guy that gave us 300 and Watchmen but you wouldn't be surprised when you see how F***ING gorgeous this film is! These were books popular around the time I was in high school or maybe as far back as middle school, but they were cool concepts at the time and were surprisingly well made in movie form. It's too bad the movie didn't make the money it should have to warrant a sequel, but it's great on it's own.
12. Brother Bear (2003): Native Americans stories are some of the most spiritual and magical of them all and when you put it in Disney form, you are given a winning formula. Joaquin Phoenix lends his voice as Kenai. Music, solid animation, and a great voice cast, and yet, no one cares about it. It's tragic really.
11. Sinbad: Legend of the Seven Seas (2003): Brad Pitt voicing Sinbad is just too perfect. It's a seductive film in more ways than one and brings the traits of what makes Sinbad sin so badly while still being safe(ish) for kids. It's rather beautiful to look at with aesthetically pleasing visuals and a unique mixture of different stories from Greek mythology to old pirate legends galore. Too bad it didn't have just a tad more put into it or it would have been one of the better animated films.
10. The Road to El Dorado (2000): Some of you will be wondering why this is even on the list, but if you ask a general movie fan about this movie, will they know the songs? Will they remember the horse's name? Probably not and it doesn't help this film was a straight to DVD release film. What makes this so undervalued is because of it's humor, incredibly elegant details in the animation, and the songs performed by the great Elton John. It's from DreamWorks Studios and does have mild swearing and sexually motivated scenes that may come to a surprise to some, but it's a great little film.
9. The Quest for Camelot (1998): Warner Brothers has always been able to tickle my fancy in the animation department and it was with a childhood film of mine called The Quest for Camelot that made me realize how much fun WB had with their animation department. With voice talents that include Jaleel White, Pierce Brosnan, Don Rickles, and even Gary Oldman (as a great villain might I add), it also the reason "The Prayer" by Celine Dion is even in existence. The songs are fun, but beautiful, and the same can be said for the story and the animation that incorporates knights, dragons, and female hero worth seeing a story about.
8. Treasure Planet (2003): Yes, there is a Disney film that is underrated. Take the iconic story of "Treasure Island' and put in space, throw in some Joseph Gordon-Levitt along with some incredibly magical scenery, and you end up with Treasure Planet. This was one of those Disney films that didn't quite hit the emotional chords like some of the other classics did, but this is still a great film in it's own right. I think of it as the influence of Pixar meets the traditional styles of classic Disney films.
7. Dinosaur (2000): Wait, another Disney film made the cut?! Yes, yes it did. Do you guys remember the really cool scene of that spikey T-Rex looking dinosaur in front of all the Tarzan previews when you were a kid? That emotional scene when the spikey T-Rex thingy steps on all but one egg? It's this film that harnessed the ability to tell visually epic stories with nothing but CGI. Critics call the story generic, but I call it riveting and pulse pounding. As a kid, this film frightened me, and made me yelp like a girl whenever a dinosaur was being eaten or attacked.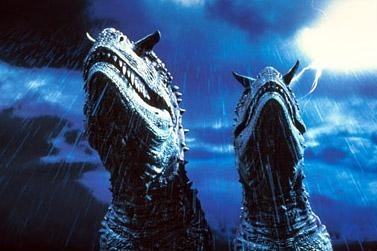 6. Anastasia (1997): If you're sensing a theme here, music in early animated films were what gave them staying power. Much credit to Don Bluth for making a classic rendition of the tale of the lost daughter of the last Russian Czar. The music is great anytime of the year, but especially around Christmas. Bells and snow blanket this realistic fiction fairy tale that boasts an excellently voiced cast that ranges from Meg Ryan, John Cusack, Christopher Lloyd, and the great Bernadette Peters.
5. James and the Giant Peach (1996): This one was tough to add to the list, but I am making it the exception. The film is not all animation, but the majority of it is, and I hear the same responses when I bring this film up; "Oh that movie weirded me out as a kid"…what does that say about me? Yeah, you know, the guy who actually liked this movie as a child growing up! It's Tim Burton inspired stop-motion animation with songs and whimsical characters galore that take from the famous children's book of the same name.
4. Antz (1998): Though we love Pixar's A Bug's Life, DreamWorks was countering the bug film with their own bug infested movie, but with a more adult basis of storytelling than the Pixar production. The cast boasted people from Woody Allen, Sylvester Stallone, Jennifer Lopez, Danny Glover, Sharon Stone, Gene Hackman, Christopher Walken, Dan Aykroyd, and Jane Curtin. Yeah, it was huge, and it is often preferred over A Bug's Life for it's maturity or lack thereof.
3. The Prince of Egypt (1998): I'm glad to hear that this film is liked by more people than I thought, but because it deals with a biblical story from the book of Exodus people tend to fade from it, but the one constant from this film will always be how well it was animated, voiced, and the Grammy winning music that boasts some of the best scores by Hans Zimmer and one of the greatest duets by any artists in the song "When You Believe" by Mariah Carey and Whitney Houston. If you can get over your beliefs or non-beliefs, you will easily adore this movie for one reason or another.
2. Chicken Run (2000): Wait, Chicken Run? Yes, Chicken Run. People are so snobby when it comes to stop motion animation. Unless it's The Nightmare Before Christmas people tend to not care and that's messed up. Chicken Run is not only great animation, but it is laugh out loud hilarious, in that British humor sort of way. There are so many quips and quotes you missed as a kid or young adult that are far funnier now and let's not forget Mel Gibson in a role we can sort of like him in again. This was a film brought to us by the people that created Wallace and Gromit folks.
1. The Hunchback of Notre Dame (1997): Overshadowed by other great 90's and early 2000's films, The Hunchback of Notre Dame may be one of the best Disney films made in that era. With top notch music, a story that holds up no matter what time period you tell it, and a theme of "who is the monster and who is the man" becomes inspiring and heartbreaking all in one scene. The settings are drawn and painted with a craftsmanship of the best artists out there and holds up with humor as well. I'm not too sure what happened to kids my age when this film came out, but no one saw it, and no one felt the punch this film swung with.